Our "Welcome Back" Summer Series starts in July, and we have a fun-filled in-person schedule of events for you. In addition to our regular programming (like Josie's amazing fitness classes), we will be offering the following programming for the summer. There is something planned for everyone, so we hope to see you back home at CNT!
Summer Unwind: Evening Yoga - Tuesdays, 6p
July 12, 19, 26 + August 2, 9, 16
Summer is a prime time to reset both mind and body for the season ahead. This class will be led by Jennifer Allen, who has been teaching yoga in Los Angeles for nearly 20 years, working with a wide range of practitioners from grade school children to competitive elite athletes.
All Levels Welcome. Please bring a mat and a towel and wear comfortable clothing.
Ages: 12+
Drop-ins will be $10 per class.
Zoom Class with Rabbi Sessler- Wednesdays, 7:30p
July 13, 20, 27 + August 3, 10, 17, 24, 31
Being Jewish Today: The Inner World of Rabbi Soloveitchik
Join Rabbi Sessler in reflecting on Jewish identity today through the lens of one of the leading Jewish thinkers of recent times, Rabbi Joseph Soloveitchik. We will discuss what it means to be a traditional Jew in the technologically oriented society of today's world, and what are the tensions involved in being a person of faith in a predominantly secularizing society.
Ages: Adults
Complimentary event for members and non-members
To be added to the class roster and receive class materials, email Ambir Elliott at aelliott@nertamid.com.
Paint and Pour - July 11, *Note New time at 6:30p
Come connect friends, have a sip and a bite, and make your own masterpiece!
Member and VP of Congregational Activities, Jill Ruby-Wahba will provide an overview of techniques and guide you in reconnecting with your inner artist and joyful self through painting!

Ages: 13+
$36 per person.
CLICK HERE to sign up.
Hike and Havdalah - July 16, 7p * NOTE NEW TIME & MEETING LOCATION
Summer nights are here! Enjoy this late afternoon hike, followed by Havdalah and snacks. We will meet at 7pm at the RHE City Hall. The hike will be on the Chadwick Trail. After the hike we will return to the RHE City Hall picnic tables for snacks and schmoozing until Havdalah time.
We recommend you bring a jacket. It might get cold when the sun goes down.
Ages: All Ages
Complimentary event for members
Shabbat Welcome Dinner for Rabbi and Cantor - July 22, 7p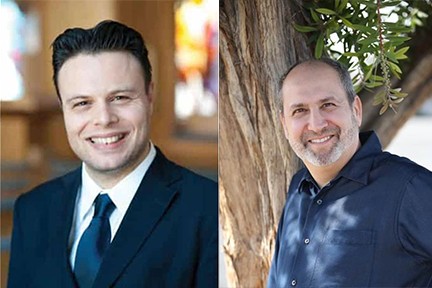 Let's welcome our new clergy! Following their leading Shabbat Services, Rabbi Tal Sessler and Cantor Ken Jaffe will join the congregation for their Welcome to CNT Shabbat Dinner! Catered by Blueberry Hill Caterers, this Shabbat meal will have a delicious Israeli menu:
Adults: Israeli salad, challah, chicken, veggie, and beef kabobs, rice, Moroccan carrots, chocolate dessert and fruit.
Childrens: Israeli salad, challah, miniature chicken kabobs, rice, corn, chocolate dessert and fruit.
Ages: All Ages
$55 per adult; $18 for children 12 and under.
July 17th is the deadline to register.
CLICK HERE to register
Roller Skating @ Pigeon's Roller Rink, Long Beach, July 24, 12p
Rolling skating of the 1980s is back in Long Beach, where we are meeting together to skate at Pigeon's Roller Rink. Open skate is from 12-2p.
Ages: All Ages
Rate: $10 for admission; $10 to rent skates.
Pigeon's Roller Rink
6400 Pacific Coast Hwy
Long Beach, CA 90803
Maccabiah Games and Picnic @ Hesse Park - July 31, 10a
Join us for a morning of Maccabiah Games and a picnic lunch. You will be placed on a color team, and will compete against other teams in an assortment of fun relays and activities. Lead by our very own Miriam Cohn! Don't forget a dairy lunch and blanket if you plan to eat.
Ages: All Ages
Complimentary event for members
Tikkun Olam @ Hesse Park - July 31, 12:30p
To launch off our "Year of Tikkun Olam" series of programming, we are meeting at Hesse Park at 12:30p to assemble backpacks with school supplies that will subsequently be donated to children at the Toberman House in San Pedro. Either extend your day following the Maccabiah Games or join us just for the project.
Ages: All Ages
Complimentary event for members and non-members
Shabbat at the Beach @ Torrance Beach, August 5, 6:30p
Now that summer is here, join us as we connect with Temple Beth El and Temple Menorah at a Friday Night Service at Torrance Beach. Shabbat at the Beach is the perfect way to spend a Friday evening in August.
Ages: All welcome
Complimentary event for members and non-members
Tikkun Olam: Tikkun Olam Teens Camp, 8/8-8/12, 9a-3p
Volunteer throughout our community with other Jewish teens! This year our program focuses on the impact of Jewish organizations in our local communities. Lead by Miriam Cohn.
Ages: Teens 13+
Early Bird Discount through June 30. $250 for South Bay Synagogue members (CNT, Beth El, Menorah); $300 Synagogue non-members
Prices Beginning July 1: $300 for South Bay Synagogue members (CNT, Beth El, Menorah); $350 Synagogue non-members
CLICK HERE to register
Outdoor Movie, Picnic, and Havdalah - August 13, 6:30p
Grab a diary picnic and blanket and join us for dinner, havdalah, and an outdoor movie. Dinner will occur before sunset, followed by havdalah, and then concluded with a family friendly movie for all.
Ages: All welcome
Complimentary event for members
Open House, Beach Boys Shabbat, and Farewell to Summer BBQ at CNT - August 26, 5p
Bid farewell to summer and join us at CNT for a Friday evening Shabbat, BBQ and concert. Come kibitz with your friends, while you eat and listen to some tunes.
Ages: All
$12 for adults; $8 for children 12 and under.
Registration coming soon.
Dodgers vs. Padres @ Dodger Stadium - September 4, 4:08p
Hey batter, batter batter! Nothing feels more like summer than going to a Dodgers game. While the Dodgers and Padres compete, you can socialize with your fellow CNT members. Carpool driving available from CNT.
Ages: All welcome
$38 per person.
CLICK HERE to purchase a ticket
Dodgers Stadium: 1000 Vin Scully Ave, Los Angeles CA 90012
Tue, August 9 2022 12 Av 5782